Another Surat waiting to happen in Delhi | Delhi News
NEW DELHI: Delhi's teaching shops are housed in buildings that are virtual death traps. Electrical wires dangle dangerously overhead. Space is often shared with fire-unsafe kitchens and restaurants. Exits and entries require agility to negotiate. Fire equipment is non-existent, as is road space for fire engines if they have to hurry to douse an inferno. And yet parents spend as much as Rs 3 lakh a year to send their children to these
coaching centres
. When TOI observed this lax attitude in different parts of the city, it could only wonder if the capital's coaching hubs aren't going the way of Surat, where 20 children died in an illegal coaching centre fire on Friday.
Emerging from Laxmi Nagar metro station in east Delhi, one can see hundreds of coaching centres, their flex boards awash with faces of smiling students and visions of a resplendent future. "There are over a thousand coaching centres here to assist students for exams in chartered accountancy, judiciary, engineering, civil services and medical courses," said a coaching centre executive. However grandiose the success these institutions promise, the centres themselves are less than inspiring, housed in tiny, crowded rooms with poor ventilation and naked electricity installations.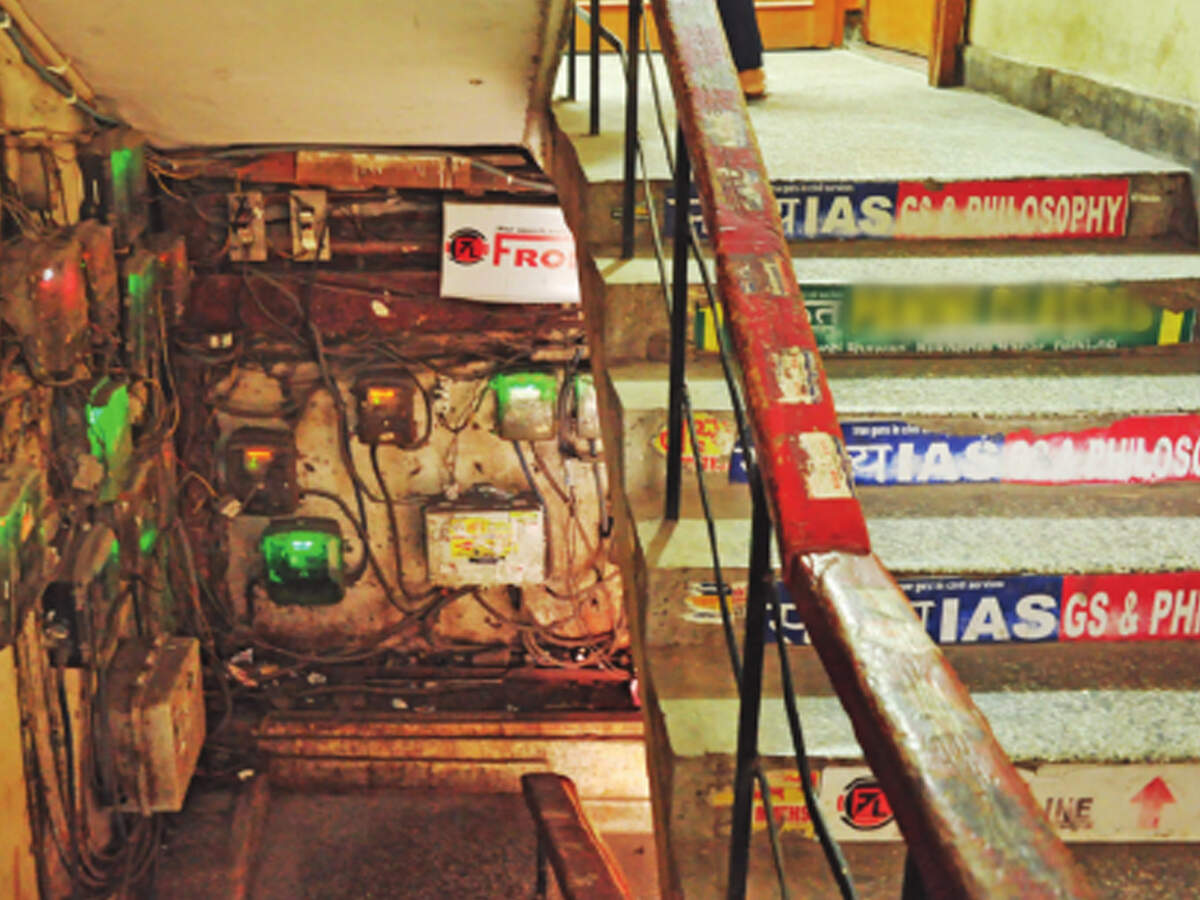 Mukherjee Nagar in North Delhi
"The stairs of the coaching centre are dark and narrow, and a Surat-like situation can develop anytime," shuddered Aakash Sahni, who is training to become a make-up artist. Akhil Kumar, a chartered accountancy aspirant, added, "The steps going up to my coaching centre are so narrow that not more than one person can walk at a time. If everyone has to rush out, there will be a stampede."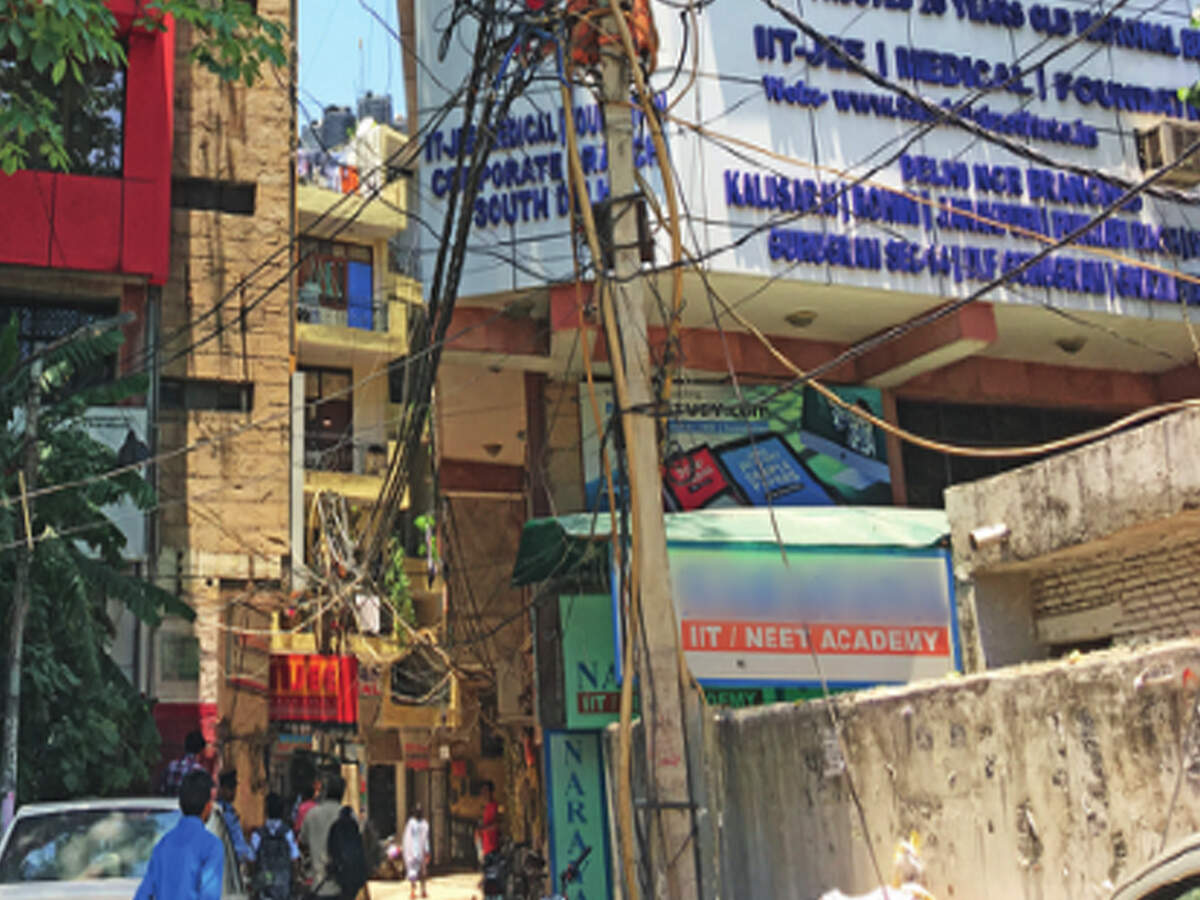 Kalu Sarai and Ber Sarai in South Delhi
Institution executives butted in to claim the existence of adequate safety features. This was, however, clearly not the case: TOI couldn't find any fire extinguishers in or near the rooms crammed with up to 30 students.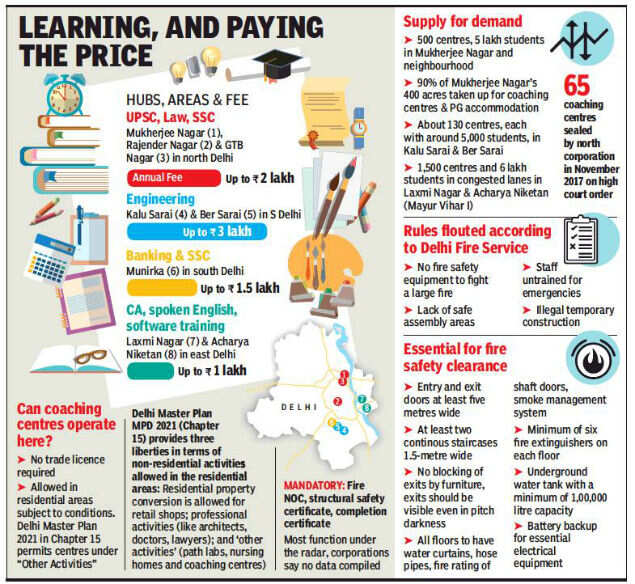 The situation is as horrific in Mukherjee Nagar, GTB Nagar or Rajendra Nagar in north Delhi, the hub for the training of future bureaucrats, lawyers and top government servants. The disused Batra theatre is an example. It has been repurposed into a teaching factory with around 20 coaching centres. Electric equipment dangerously left uncovered, ramshackle fire-fighting equipment and windows covered with flex boards make it a live incendiary bomb.
"We have met the registration norms mandatory for coaching centres," claimed a teacher. But the general disregard for safety measures was reflected in the glib answer of an executive at another centre, who when asked about the non-functional fire extinguishers, replied, "Nothing has happened so far, so no one has actually checked if they are still working." This distinct contempt for fire hazards is also evidence in the presence of eateries and kitchens on the ground floors of most buildings. In one with four coaching centres, TOI even noted an LPG cylinder distribution business.
"We have no option but to enrol in these classes," shrugged Deepankur Singh of Patna. "Some bigger centres do have better facilities, but they also take in more students and we don't, therefore, get individual attention."
In Kalu Sarai in south Delhi, along a lane where even two motorcycles would have trouble passing each other, there are at least 100 coaching centres operating out of residential buildings. These buildings have a single door for students to enter or exit, which could prove disastrous when quick evacuation is called for. The authorities at some centres claimed their security guards were trained to handle fire extinguishers, but TOI didn't notice any fire-fighting equipment nearby.
For area residents, these centres are a bane for the ills that crowding brings: garbage, congested roads, anti-social elements, petty crime, noise, power overload and youthful excesses. But the misuse of Master Plan Delhi 2021 has escaped official attention. For sure, however, if a blaze with fatalities takes place, as in Surat, the violations will be roundly condemned by one and all.
(With inputs from Somreet Bhattacharya and Madhav Nair)In Video:Surat tragedy: Hundreds of institutes with non-existent safety measures operating in Delhi NCR
LOK SABHA ELECTION RESULT 2019
#ElectionsWithTimes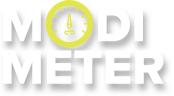 Source, N;