Five Lies About Corporate Culture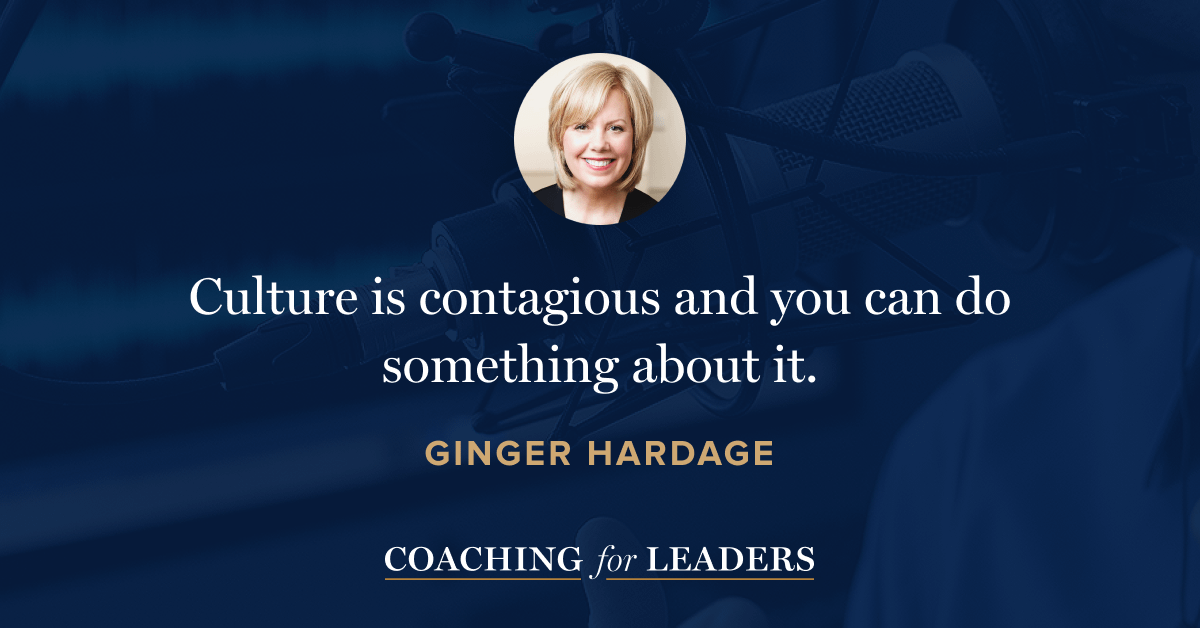 Ginger Hardage is the former senior vice president of culture at Southwest Airlines. She led a team responsible for building and sustaining the organization's legendary culture and communications enterprise, resulting in 23 consecutive years on Fortune's list of Top 10 Most Admired Companies in the World.
Today, Ginger leads Unstoppable Cultures, a firm designed to help organizations create and sustain cultures of enduring greatness. She facilitates the annual Unstoppable Cultures Fellowship to help leaders of all kinds take practical steps to create the culture that will help their organization thrive.
In this week's episode, Ginger and I discuss the five lies she's seen to come up again and again in her work with leaders who are struggling with culture. Perhaps most importantly, Ginger emphasizes that leaders need not accept the default culture, but should work to define the culture.
Here are the most useful links from this episode:
Full audio and show notes
Bonus audio with Ginger: Defining a Culture
5 Lies About Corporate Culture
Unstoppable Cultures Fellowship
If this episode helped, these will be useful too:
The Four Critical Stories Leaders Need For Influence, with David Hutchens (episode 148)
Notice and Change Dysfunctional Culture, with Jonathan Raymond (episode 327)
How to Create an Unstoppable Culture, with Ginger Hardage (episode 350)
1 in 10 Million
Coaching for Leaders is just passing 10 million episode downloads. Bonni and I are celebrating this milestone in an upcoming episode featuring listener stories.
If you'd like us to consider including your voice in this episode, visit our feedback page and record an audio message that highlights these three points:
One thing you discovered from the show.
An action you took as a result of that discovery.
The result you received.
The deadline to be considered is tomorrow, Thursday the 21st. Thanks in advance if you decide to contribute!
Saturday Cast
Change Comes Through Resilience, with Leonardo Baumworcel (episode 425): Leonardo is the director of Hospital São Lucas in Brazil. He oversees a 200-bed hospital and emergency room seeing 10,000 patients a month and the work of 2,500 staff.
Leonardo is a cardiologist by training and a recent alum of the Coaching for Leaders Academy. In this past weekend's Saturday Cast, he told us how resilience helped support his team in significantly raising the NPS (Net Promoter Score) of the hospital.
Applications will open again in September to the Academy. If you'd like an early alert when they do, click here.
Recommended Reading
How to Use LinkedIn Effectively – 2019 Updates: Helpful guidance from past guest Brenda Bernstein on how to use some of the newest LinkedIn features, including reactions and voice messaging.
How to Stop Feeling Like an Imposter: This entire article is great, but the drawings are my favorite part.
We Asked 35 Executives How They Balance Family and Work. Here's What They Said: Useful insight into the daily challenges many of us face.
Dave's Journal
Who Says So Other Than You?: Want to influence? Cite evidence from third parties that are already respected by your audience.
Original source: https://coachingforleaders.com/corporate-culture-lies/