Performance Measurement That Really Gets Results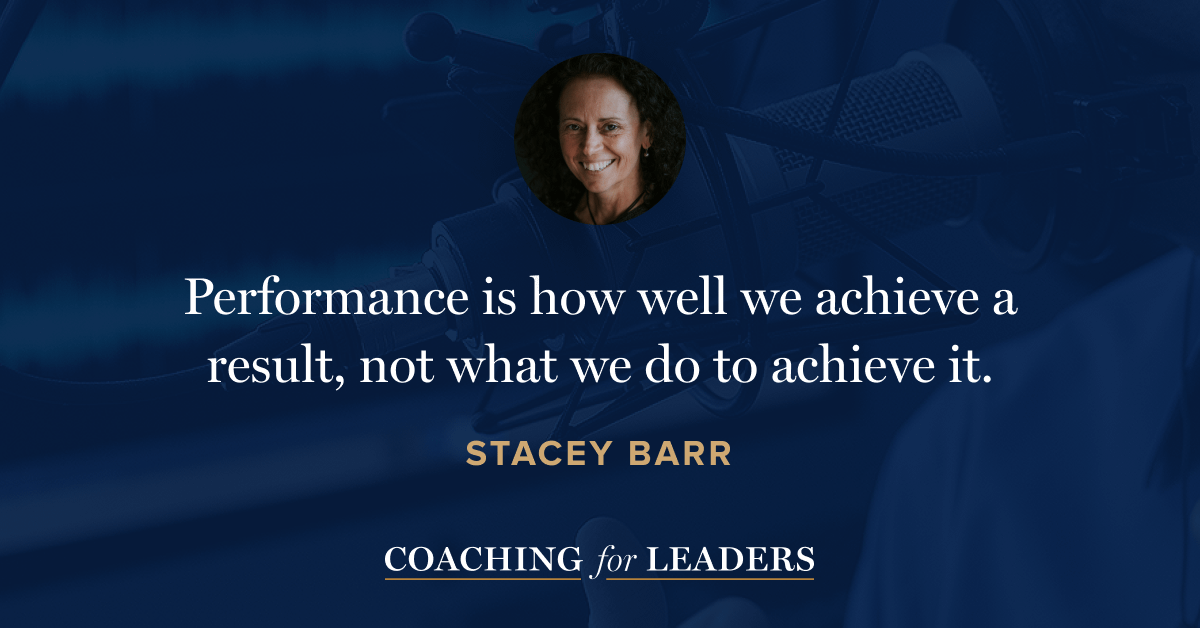 There are several ways to measure performance, with common performance measurement tools including annual reviews, productivity records, 360-degree feedback and employee-manager structured objectives.
Stacey Barr is a specialist in strategic performance measurement and evidence-based leadership. She is the creator of PuMP®, a performance measurement methodology that routinely transforms measurement cynics into its greatest advocates.
Stacey is also the author of two books, Practical Performance Measurement: Using the PuMP® Blueprint for Fast, Easy, and Engaging KPIs, and Prove It!: How to Create a High Performance Culture and Measurable Success.
On this week's episode, Stacey and I discussed some of the common mistakes that leaders and organizations make with performance measurement. We also explore what well-formulated performance measures have. Plus, Stacey has kindly made her book available for free to our listening audience.
Here are the most useful links from this episode:
Full audio and show notes
My reading highlights from Stacey's book (PDF download)
Download a free copy of Stacey's book, Practical Performance Measurement
If this episode helped, these will be useful too:
How to Actually Move Numbers, with Chris McChesney (episode 294)
How to Leverage People Analytics, with Jenny Dearborn (episode 323)
The Truth and Lies of Performance Management, with Michael Bungay Stanier (episode 361)
Recommended Reading
Remember the '10,000 Hours' Rule for Success? Forget About It: Malcolm Gladwell's "10,000 rule" has long been be the source of misinterpretation. That said, it's notable that he's endorsed this new book.
Research: Career Hot Streaks Can Happen at Any Age: A great complement to the prior article.
The Slackification of the American Home: I can't quite decide if this is inspiring or concerning.
Useful Books
Business Model Generation*: I was reminded recently of the value of this book. A useful framework for building strategy, especially for visually-minded folks.
Audio Gems
The Focused Executive: I loved Tom Henschel's advice on helping leaders find calm and focus in this most recent episode of The Look & Sound of Leadership. A fun bonus: Tom sent me his PDF resource guide on mindfulness to share with you.
Dave's Journal
If You Build It, They Will Come: "If you build it, they will come," is a lie. First of all, because it's not true. And second, because it's not even the actual phrase from Field of Dreams.
A Bit of Inspiration
Now That Ross Perot is Gone, I Can Tell This Story: Our weekly reminder of the wonderful sides of people, many that aren't always visible.
Original source: https://coachingforleaders.com/measurement-gets-results/